This month we celebrated National Older Americans Month, honoring those who have given so much to pave the way for the generations following them. This year's theme has been "Blaze a Trail" – something Bishop Spencer Place residents have been doing their whole lives! Whether in their professional careers, philanthropic endeavors, service in the community and in their homes, our residents have made their marks…from a resident who marched with Dr. Martin Luther King, Jr., in Selma and another who founded the first nursery school for children with disabilities in the area (and pioneered integration at that school) to one who was instrumental in the development of some of Kansas City's most recognizable landmarks and another who was honored to carry the Olympic Torch in 2002. There are so many amazing stories to be told by our residents and so many chapters remaining to be written as they continue to serve the community with great dedication.

President Obama signed the Presidential Proclamation for Older Americans Month 2016, saying. "Through a lifetime of contribution, older Americans have helped ensure that the founding promise of our country remains within reach for their children and grandchildren, and their individual narratives reflect the extraordinary history of our Nation. This month, we celebrate our Nation's older citizens, and we show our appreciation for all they have done to enrich our communities and drive America forward." Click here to read the full text.

May is also the month we celebrated our nurses, as well as National Nursing Home Month. Keep reading to see what else happened!
2016 Kentucky Derby Watch Party
Our Westport Room transformed into Churchill Downs as residents packed in for the 142nd running of the Kentucky Derby. The Greatest Two Minutes in Sports were celebrated with authenticity including family-recipe frosted mint juleps; beaten biscuits with ham; seersucker suits, bow ties and large hats; and a just-for-fun betting pool to keep things interesting!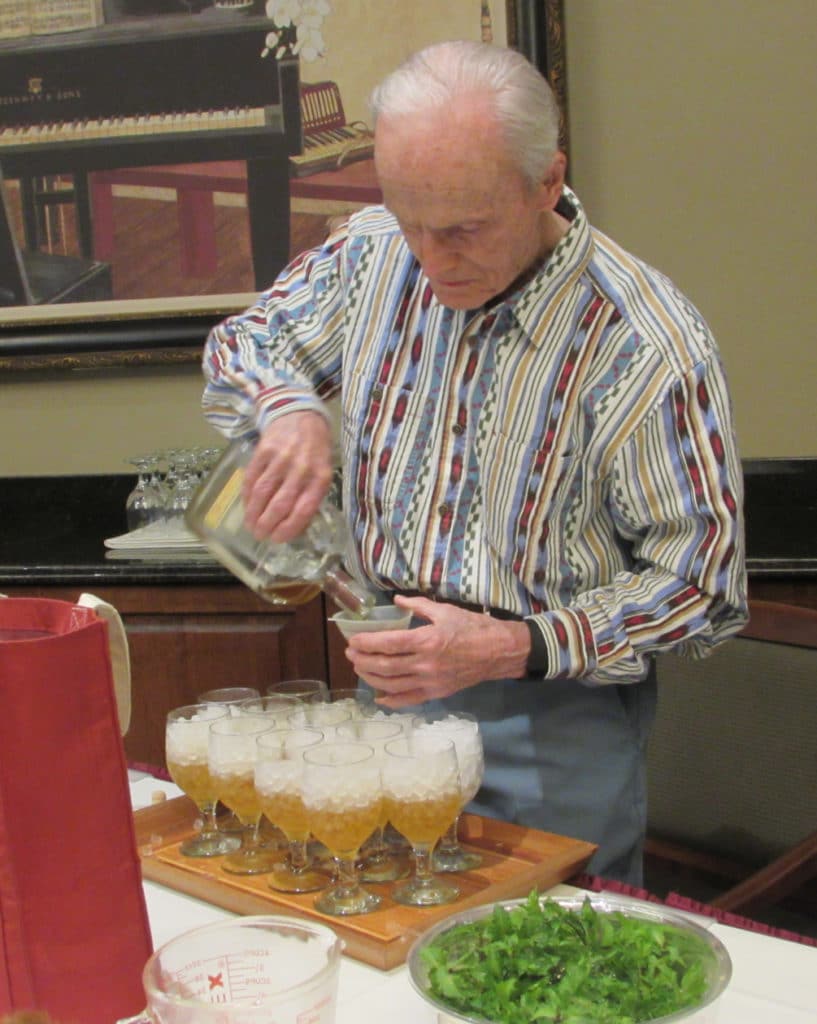 One of our residents prepares the juleps himself, steeping the 90.5 proof Kentucky bourbon with mint sprigs from our own herb garden for several days in advance of the party. He has been making juleps for around 50 years, following his famous family recipe that once served – and delighted – President Franklin Delano Roosevelt.
Melissa Steck Receives Leadership Award
We're so proud of Melissa Steck, our Administrator and Vice President of Healthcare Administration, for being honored as a 2016 recipient of the American College of Health Care Administrators' (ACHCA) Eli Pick Facility Leadership Award! This national award recognizes administrators whose teams have achieved dimensions of organizational quality that few others have been able to reach.
Eligibility for this award is based on three years of skilled nursing community survey data, including the health, fire, life safety and complaint surveys, as well as top quartile performance on designated quality measures. The criteria also includes 80% or greater community occupancy and a three year avoidance of a Special Focus status.
According to its press release, the ACHCA "firmly believes that post-acute and aging services excellence is a reflection of leadership excellence." At Bishop Spencer Place, we've been proud of our Five-Star Quality Rating from the Centers for Medicare & Medicaid Services and are thrilled that the prestigious ACHCA has recognized Melissa for her hard work in making BSP a five-star community and leading an outstanding team that ensures we stay that way!
Beer Tasting at BSP
The Rector and Vestry of Saint Paul's Episcopal Church honored their BSP parishioners and all BSP residents with a special craft beer tasting and food pairing. The Rev. Stan Runnels from St. Paul's, John Couture from Bier Station and local beer expert Patrick Combs of Brytos Beer Education guided us through a variety of delicious samples. We loved it!
National Stroke Awareness Month
May has been American Stroke Month, which is the annual campaign to increase stroke awareness and to educate Americans that stroke is largely preventable, treatable and beatable – in fact, 80% of all strokes are preventable. While someone has a stroke every 40 seconds in the U.S. and stroke is the number four cause of death and leading cause of disability in the U.S., many Americans do not think of stroke as a major health concern.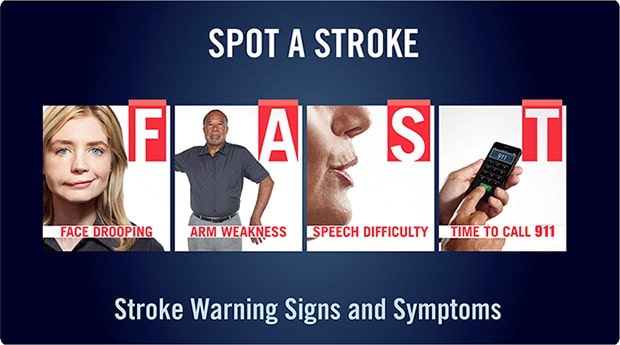 The American Stroke Association urges people to "Be a Stroke Hero" by knowing F.A.S.T., the warning signs of a stroke, so you're ready to take action:
Face drooping
Arm weakness
Speech difficulty
Time to call 9-1-1
We're proud of our connection with Saint Luke's Hospital – one of the leading stroke hospitals in the nation. Click here to read about Saint Luke's Stroke Center.
The more educated we are, the more stroke we can treat early or prevent – click here to download a brochure on stroke prevention.
And for people who have already experienced stroke, this article shares 15 things caregivers should know after a loved on has had a stroke.
Birding Adventure at Weston Bend State Park
We braved the early-morning drizzle so as not to miss a birding excursion at Weston Bend State Park. During this very active time at the park, two migration flyways merge along the Missouri River and many birds use Weston as a rest stop on their journey. Our wonderful guides provided binoculars and their expertise to ensure we we would spot the vivid beauties in full breeding color. We love our adventures with the Weston Bend State Park crew!
Tea for Three Theater
History came alive as Emmy Award-winning actress Elaine Bromka staged her Off-Broadway play, "Tea for Three," for two showings here at BSP. Through her portrait gallery of three First Ladies, Ms. Bromka gave a poignant peek at Lady Bird Johnson, Pat Nixon and Betty Ford in this lively, yet touching play co-written with Eric H. Weinberger. Such a special experience for us all!
Celebrating National Nursing Home Week
The place was poppin' with festivities in honor of National Nursing Home Week! A professional magician, games, live music and more entertained our residents in our skilled nursing and rehab areas. This special week acknowledges the perennial contributions of older adults to our country.
Our dedicated staff treats residents like family and cares for them with love and compassion. And we're so fortunate our residents give all that love back to us!
"Knock Your Socks Off" Training
BSP's Windsor Care team members enjoyed a spirited customer service training session during which they learned and discussed the many ways to knock the socks off of their in-home caregiving clients. Sharon Pace, independent living apartment nurse and director of Windsor Care, and her team lead twice-annual inservices to emphasize the importance of first-class service and highly-competent care. This year, the marketing and environmental services teams stepped in to provide lively guest presentations!
Honoring Our Nurses
We're so fortunate to have so many amazing nurses to celebrate during National Nurse's Week! We're so proud of and humbled by the hard work, dedication and exceptional, compassionate care provided every day by the nurses on our skilled nursing, assisted living and in-home care teams. So grateful for all they do!
Panel Luncheon: You Ask. Residents Answer.
There's only one way to get the real scoop on retirement communities. This is your opportunity to learn insider insights straight from residents who were once in your shoes, asking the same questions. You'll hear their stories, find out why they made the decision to move to a retirement community and ask any question that's on your mind. All while enjoying a delicious complimentary lunch prepared by our culinary services provider, PB&J Restaurants.
You'll also hear from guest panelists Claire McCurdy of ReeceNichols and Linda Scardino of Gentle Changes. Claire will provide insight on the local real estate market, including the estimated value of your home. Then, Linda will share how she can help you sort, pack, unpack and get settled in at Bishop Spencer Place.
Panel Luncheon
Wednesday, June 29 | 11:00 a.m.
Bishop Spencer Place | 4301 Madison Ave., Kansas City, MO 64111
Seating is limited, so R.S.V.P. online or call Kim at (816) 595-5015 by Friday, June 24.
Complimentary valet parking will be available.
Claire's Corner: Housing Market Update
What would it take for you to decide to sell your home. Seriously, what would it take for you to decide to put your home on the market right now?  A guaranteed full price offer — at more than you probably thought it was worth? That you could close and move in 60 days? That you'd have to deal with the hassle of getting a call just as you're sitting down to dinner and being told that yet another family wants to take a look at your home in 30 minutes for a minimal amount of time?
As we all know, there are no guarantees in life, but with the way our local real estate market is responding to the current demand, sellers are coming pretty darn close! Let's take a look at the April market statistics…
Reflections From the Chaplain's Desk
Dogwood trees in bloom are a wondrous sight to behold, but did you know they have a backstory? Legend has it that Jesus was crucified on a cross made of dogwood, which caused the tree great sorrow. Jesus, aware of this, promised that: 1) the dogwood would never again grow tall enough to be put to such a cruel use; and 2) it would henceforth bear flowers in the shape of a cross, to remind all who see it of Christ's suffering, and of the compassion of the dogwood.
We would love to share our beautiful community with you! Mendi, our Director of Marketing, welcomes the opportunity to meet you and answer any questions you have about today's senior living options – and how to make the most of your retirement.

Please call or email Mendi to schedule a personal appointment and tour.