Peace of Mind for You and Your Family
In 1995, Saint Luke's Bishop Spencer Place opened its doors and began a tradition of caring that has stayed true to a mission rooted in its faith-based heritage: To provide residents with premier retirement living in a family-oriented environment with a unique offering of healthcare, as part of Saint Luke's Health System, for the duration of their lives.
In 2006, we expanded our community and introduced Windsor Care – high-quality, private caregiving services provided directly in residents' independent living apartment homes. This personalized in-home care allows residents to stay in independent living without moving to a higher level of care unless or until they choose to do so.
Windsor Care can assist with private-duty nursing, personal care, household functions, or escorts to appointments. Services are available seven days a week, 24 hours a day.
Our nurse meets with you to customize a plan that addresses your specific health care and personal needs. We bring the care to you, which reduces the stress, cost, and inconvenience of transitioning to a higher level of care in assisted living or skilled nursing. Being able to stay in your independent living home while receiving the best of care provides peace of mind for you and your family.
To ensure you receive only the very best care, we carefully screen and select all caregiver applicants. They must meet the same high standards we require for all employees. Each prospective employee must pass a drug screen and physical, and they receive an in-depth orientation to ensure they have the skills necessary to give first-class service and competent care. If additional skills are required to meet your needs, specific training is provided.
Explore Private Caregiving Services
"It sounds cliché, but we develop a bond with our clients and really do treat each of them as we would our own family members. An incredible amount of trust is given to our caregivers each day, and we don't take that responsibility lightly."

– Sharon Pace; Clinical Director of Windsor Care/Bishop Spencer Place at Home. Team Member Since 1999
Meet the Windsor Care Supervisory Team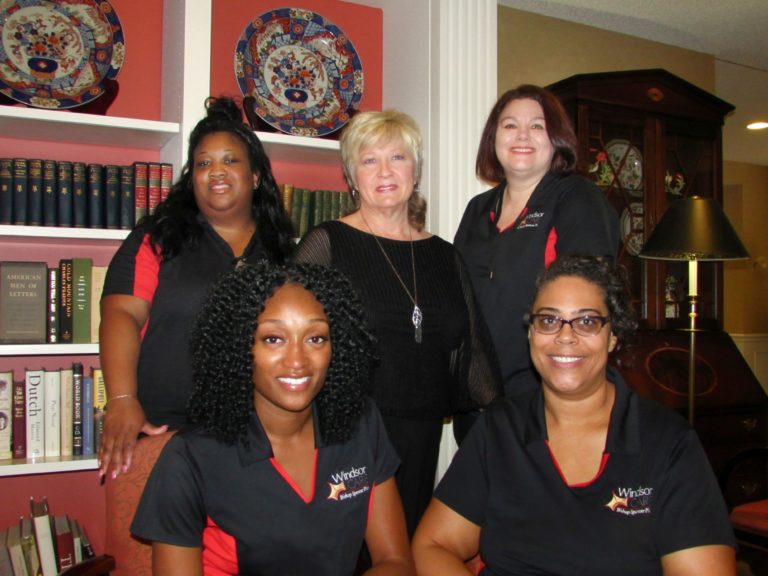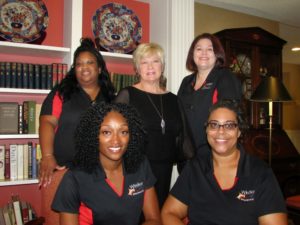 Back row (left to right): Karen Williams , Sharon Pace & Allison Evans
Front row (left to right): Myeshia Wilson & Venus Kind
Important Facts
Windsor Nursing Assessment. The Windsor Care nurse meets with you to define any special needs and establish a care plan.
Caregivers. Provide assistance with the tasks of daily living to provide help and peace of mind.
Apartment Nurse.  A licensed nurse is available to assess and treat minor illness and injury, medication assistance, injections, or lab work in your home.
Supervision. Your care and our employees' performance are monitored regularly.
In addition to assisting residents with in-home care for our independent living apartments, Windsor Care provides a variety of other services to Coventry Court Assisted Living and York Place Skilled Nursing.